Faahac Faxe
sekce: B VRH - Baboo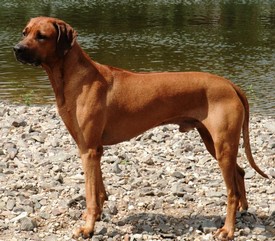 born   11.3.2008
mother   Hayawani Kamambaa Rangi to Faahac
father    Nyassa Adam
pedigree   click
HD  A/A   ED   0/0
colour red wheaten
height 68,5 cm  weight 44 kg
full dentition
correct scissor bite
Degenerative Myelopathie - N/N click
gene for brown nose
Swedish Champion
Danish Champion
Swedish Field-Tracking Champion
Faxe was born in England at Faahac kennel and he has been living in Southern Sweden with Eva and Michael Malmport. He was born in the litter of 12 standard puppies - click. All siblings are of full scissor bites, they have an excellent temperament, standard height and no health problems.
In Faxe´s pedigree there are ancestors from England, Sweden, New Zealand, South Africa and Australia. His mother Ambaa is a beautiful liver nosed bitch with the proud title of Best Bitch of 2010 in Great Britain. Faxe´s father Adam can proud himself with excellent balanced body with beautiful red-wheaten colour. Adam is one of the top breeding stud dogs not only in England but also European-wide.
Faxe is rather versatile dog. He has been successful at dog shows where he has always (but one) got excellent marks. He went through an obedience examination with excellent marks in both final parts. Faxe and Eva are training regularly with others in a IPO-R group and he has also been very successful in tracking examination. His outstanding performance in tracking and hunting disciplines has led to his Swedish field tracking Champion title. He has also taken part in agility training. Faxe loves exercising and he is also very active during regular daily walks.
During our visit to his home place - click., we have seen Faxe as a self-confident, whole-hearted, responsive, and very curious dog. But above all he is a happy and playful dog all day round. He just loves people and other dogs company. He has never shown any sign of aggression and his behaviour is extremely friendly. He loves physical contact and enjoys being at home with his family (on a couch watching TV). We have had a chance to enjoy his lovely character, playfulness and temperament. We have also noticed his majestic exterior.  We have immediately fallen in love with his typical male head with deep while soft, dark eyes. His strong bones, excellent angulations, nice spacious chest and fabulous top and underline can hardly be overlooked. His movement is dynamic and vivid. He is simply a handsome dog. But he has got some added value, we look for, when breeding our dogs: we look for a good health and character, as we believe that health and good temperament is important for the entire life our puppies. And this is something Faxe can contribute without any doubts. And this is why his is our choice!
Faxe has fathered his first litter this year in Germany  ( click ), 15 puppies have been born, in which 13 is in show quality, 2 non-standard. Faxe has proved to be a caring and payfull father inviting his first-born son Jusse home and raising him himself - video click. This is yet another evidence of his perfect character - we are sure we have chosen well!
« Zpět
---
Menu
Informace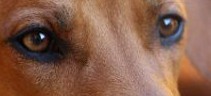 NA LÉTO/PODZIM 2023

PLÁNUJEME VRH  "H"

 

Veškerý grafický, textový a jiný obsah či součást těchto stránek je předmětem autorského práva ve smyslu Autorského zákona č. 121/2000 §11.

<!- content -->