Ch Anne Mellory Magmabona
sekce: B VRH - Baboo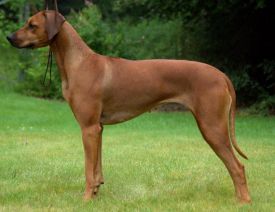 born   14.4.2009
mother  Aliss Brassila Zulaykha
father   Rachral Abayomi Hintza
pedigree   click
HD  A/A   ED  0/0
colour red wheaten
height 65 cm   weight 34,5 kg
full dentition
correct scissor bite
Degenerative Myelopathie - N/N click
Czech champion
Champion of club ČKRR
shows - click
obedience exam - ZOP
lure coursing licence
Mellory was born in our A-litter with 9 siblings. 4 other siblings are certified for breeding - click and six puppies of this litter have x-rayed hips and elbows, all of them with excellent results - click.
Mellory´s pedigree brings together ancestors from Australia, USA, South Africa, The Netherlands and the Czech Republic. Brassila, Mellory´s mother, is an excellent bitch with exquisite body framework, amazing head and absolutely perfect forefront. Mellory´s father, Hintza, is the outstanding ridgeback with very harmonic look. He has got a distinct head with correct holding, strong neck of perfect length. His movement is emanating balance, power and stamina. Both of her parents are healthy, as well as her siblings; all of them are dogs of nice temperament and character.
Mellory is elegant, healthy bitch with harmonic body. She has got medium-sized bones, lovely female head and graceful neck line; correct topline and underline and strong back. Her chest is deep and of typical shape. Mellory´s strength is her gorgeous movement.
Mellory is an easy-going dog. She can be a very quiet dog at home, very grateful for any attention, seeking close contact with her master. Outside, she can be a devil. She loves long walks with the company of other dogs, where she drives her dog friends mad by her speed. Mellory is a synonym for endless motion and not surprisingly lure coursing is the activity of her heart. Her temperament, stamina and power are just unbelievable! She is, however, also very playful and sometimes rather frisky. She has never had any conflict with other dogs and has never shown any sign of aggression. She is simply a good girl!
Mellory became exemplary and very careful mother of our litter C. Details of this litter here and videos of life puppies in our kennel here
« Zpět
---
Menu
Informace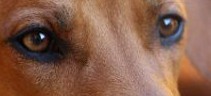 NA LÉTO/PODZIM 2023

PLÁNUJEME VRH  "H"

 

Veškerý grafický, textový a jiný obsah či součást těchto stránek je předmětem autorského práva ve smyslu Autorského zákona č. 121/2000 §11.

<!- content -->